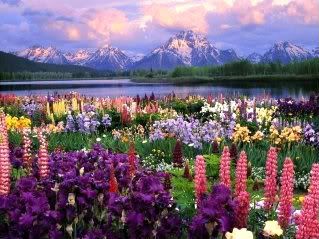 Top o' the morning to ya on this fabulous St. Patrick's Day.

The sun is shining down on me here in the formerly frozen north, I've got my green on and the thought of beautiful blooms fill my brain. There are so many different varieties of flowers available to fill me with the blissful happiness of natures smiles. Which do I choose?

Tulips - their stately beauty and gentle lines take my breath away and leave me softened and ready to be filled with love.

Guarded within the old red wall's embrace,
Marshalled like soldiers in gay company,
The tulips stand arrayed. Here infantry
Wheels out into the sunlight. What bold grace
Sets off their tunics, white with crimson lace!
A Tulip Garden by Amy Lowell

Crocus - Delicate blooms of the gentlest color carpeting the ground, proceeding the grass to herold the coming of spring at last.

First a howling blizzard woke us,
Then the rain came down to soak us,
And now before the eye can focus -
Crocus. ~Lilja Rogers

Daffodils - The sunny yellows and pure whites beckon us to come enjoy a spot of tea.

For oft, when on my couch I lie
In vacant or in pensive mood,
They flash upon that inward eye
Which is the bliss of solitude;
And then my heart with pleasure fills,
And dances with the daffodils.
Daffodils by William Wordsworth

Impatiens - The excited overachievers of the flower world, spreading their glorious colors.

Primrose, Lilacs and Peonies - Beauty in shrubbed form to brighten my day, but what to choose to line my way?

Sadly, the shrubbed flowers are not available to me this year, simply no room for them so I will have to enjoy them from a far. Darling Diva and I shall, however, indulge our visual needs with potted plants. Though the fields shall be reduced to bits, we are grateful to have the area to do something rather than nothing. :)

How about you out there, what flowers must you have in your gardens? What flowers make you smile?

Have a wonderful day and remember, anyone not wearing green today gets a pinch. Here's to hoping we all find someone sexy who forgot! hehe